"LYON IS A CITY THAT MAKES YOU HUNGRY." PAUL BOCUSE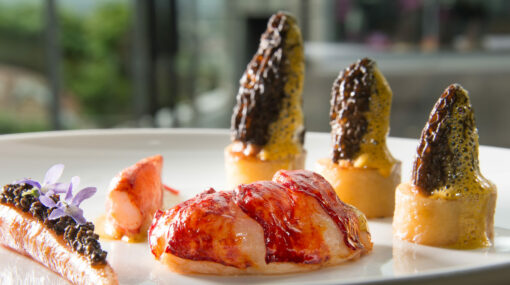 Gastronomy
Hailed by the food critic Curnonsky as the "world capital of gastronomy" in 1935, Lyon has never failed to deliver.
Coming to Lyon means having a desire to discover the excellence created in the kitchens of the old Mères of Lyon. It means experiencing the convivial cuisine that is typical of Lyon's bouchon restaurants. Lyon has successfully preserved its culinary traditions without shunning new trends. In fact, it creates them.
Make sure you don't miss out on this vital part of your stay: ENJOY.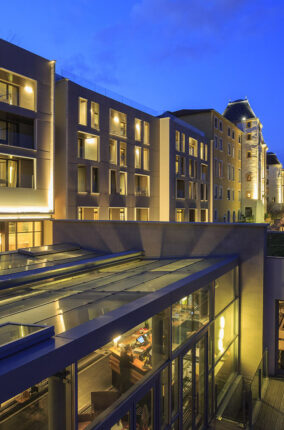 Christian Têtedoie's restaurant
There is no greater pleasure than sitting at a dining table in Lyon with the city spread out below you as your backdrop. In front of the hotel, Christian TETEDOIE reinterprets the classic "Bocusiens" inspired by famous French chef Paul Bocuse. An adopted native of Lyon with true culinary stripes, Christian Têtedoie won Best Apprentice in France at the age of 17, Meilleur Ouvrier de France at age 35 and is the President of Maîtres Cuisiniers de France.
Discover the restaurant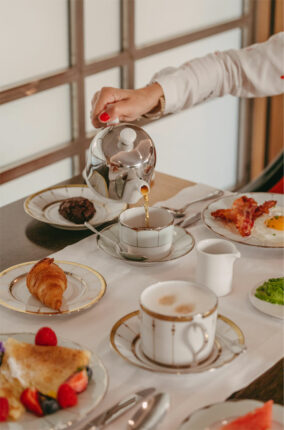 Breakfast
It is customary to say that breakfast is the most important meal of the day! You decide where to enjoy it: in the lounge with us, on the terrace overlooking the garden or in your room. All year round, we select seasonal products from our region to help you get your day off to a good start. Allow yourself to be tempted by different delicacies every day (crepes, waffles, pancakes, and more).
Breakfast is served from 7 am to 10.30 am during the week and until 11 am on weekends.
Breakfast menu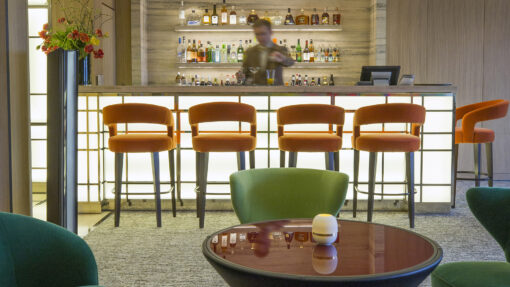 The Bar
"THE MISTRESS OF THE HOUSE SHOULD ALWAYS BE CERTAIN THAT THE COFFEE BE EXCELLENT; THE MASTER THAT HIS LIQUORS BE OF THE FIRST QUALITY." ANTHELME BRILLAT-SAVARIN
Choose between the modern atmosphere of the bar with breathtaking views, crafted from Saint-Just glass and polished nickel, or the cosy charm of the library with its terrace overlooking the gardens.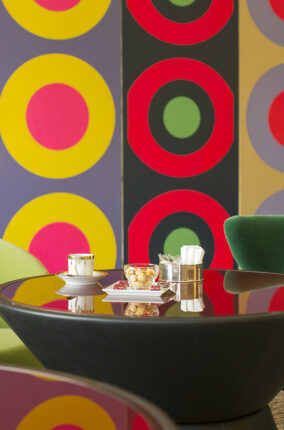 For a cup of tea
What if afternoon tea became a moment in time suspended above the skies? Make yourself comfortable on the library's velvet sofas. Here, the decor fades to give way to tradition in the form of a brioche full of pink praline, which leaves its delectable scent of caramelised sugar lingering in the air around it…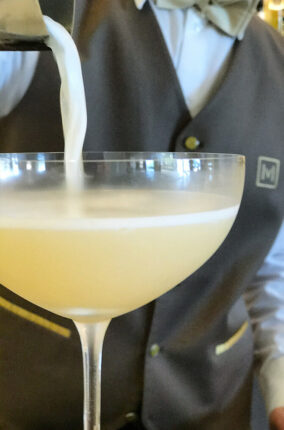 For a cocktail fancy
At the end of the day or the beginning of an evening, enjoy an almond-flavoured cocktail that blends with Villa Maïa's scents.
Located on the first floor of the hotel, the bar is open for you from 5 pm until 11 pm, Sunday to Thursday, and until midnight on Fridays and Saturdays (free garage and valet parking available).
Discover the menu